Singing together in choir has been a challenge when you cannot sing together in person! One avenue we have found helpful is the virtual choir format. As much as we have enjoyed putting these projects together, they take a considerable amount of time to create. On my end, it takes about 30 hours to put together a virtual choir anthem! To give you a glimpse into the process, I have included a step-by-step guide into what it takes to make a virtual choir anthem.
Step 1 – Creating the demo tracks
Juli Bey records the piano track, which is the foundation for the whole project. I then video myself conducting the piece while listening to the piano track. This initial product is sent to each of the Choral Scholars, and they video themselves singing to the piano/conducting track. I mix these video/audio files together and create 5 different video tracks to distribute to the choir: piano/conducting, piano/soprano/conducting, piano/alto/conducting, piano/tenor/bass/conducting, and one with all of these parts together.
Step 2 – Distributing tracks, music, and instructions to virtual choir members
Once these tracks are finished, I send the virtual choir members links to access the sheet music, demo tracks, and a list of recording instructions via email.
Step 3 – Rehearsing the music with virtual choir members
Since we are not gathering in person, rehearsal is very tricky! There is a substantial delay with Zoom and other video conferencing apps, so group singing is not possible. However, we rehearse the piece over Zoom by having sectionals. Each singer, with their video muted, sings along while Juli and myself take turns playing their vocal part and accompaniment.
Step 4 – Extracting sound file from videos and uploading videos to Final Cut Pro
Once the singers send their videos to me, I extract the audio from the video files and upload them to an audio mixing program (GarageBand). I then upload the video to the video editing software (Final Cut Pro X).
Step 5 – Mixing audio tracks in GarageBand (Image 1)
Mixing 25+ tracks is a huge challenge! I have to align the tracks together, edit them so the tracks sound similar to one another (adjusting EQ, reverb, noise reduction, compression, etc.). I also have to edit sections where wrong notes, rhythms, or words are sung by decreasing the volume when those moments occur. When the individual tracks are edited to my satisfaction, I have to balance each part to one another so it sounds like a unified choir.
Step 6 – Creating video presentation in FCPX (image 2)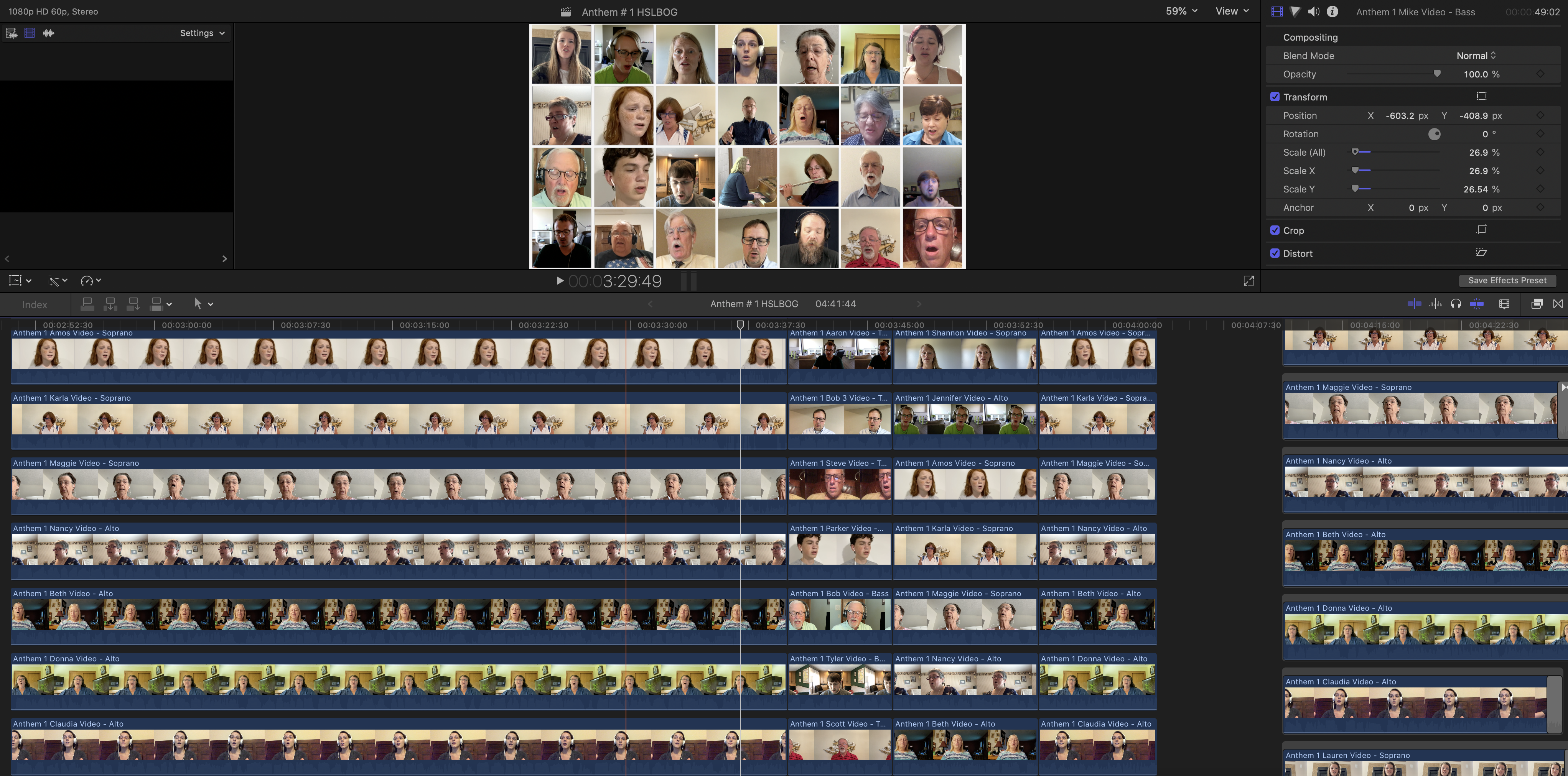 When the master audio track is complete, I move on to the video editing phase. I first align all of the videos to the piano track. This is a time-consuming process, because it is very obvious when the audio is not closely aligned to the video. After this process is complete, I crop each individual video and match it to a template I create. This way each individual video frame is the same for every singer/instrumentalist. When the finished video shows two or six frames, a similar process is used with cropping each individual video to match the template. Once this process is done, the video is uploaded to our YouTube page for you all to enjoy!
Watch the finished Anthem at https://youtube/_K-vzvoMSvI